As if the gender gap wasn't enough already, women leaders in supply chain have their work cut out for them. With a decade already punctuated by constant disruption; consumers are more aware of supply chain and how industry shortages, talent gaps, and climate events impact their daily lives and local communities. The headlines are pumping a steady stream of fresh supply chain calamities across social news feeds—with more uncertainty looming with the threat of a railway strike becoming more probable every day. One of the globe's largest railway labor unions just rejected the latest proposal, and another asked for major ratifications while a full-on strike edges dangerously closer.  Once a quiet shadow operation consumers weren't aware of that most executives viewed as a basic, operational and cost-saving function, the supply chain is now known as a major strategic arm necessary for business growth and success. While the most chaotic health pandemic in modern history fades into a distant memory, climate change events and the ongoing labor shortage continue fueling the ongoing waves of delays, limitations, and stock-outs. One dialogue that is still more of a murmur is how closing the gender gap in supply chain can help the industry build its ranks and agility. We know that statistically, more Women in supply chain™ leadership and operations teams isn't just important for diversity and inclusion. More women leaders in supply chain will move the industry forward. The numbers show that women bring more curiosity and agility to their organizations to amplify standout performance. At Let's Talk Supply Chain, we're committed to closing the gender gap in supply chain by celebrating the women leaders in supply chain who are breaking gender norms and glass ceilings to empower innovative new approaches and inspire future female logistics leaders. Every month our Women in supply chain™ blog introduces you to the female trailblazers who are making big moves and reshaping the industry as we know it. Let's Talk Supply Chain gives women leaders in supply chain a platform to share what drives them and how they are actively empowering real progress in their communities and organizations. Let's Talk Supply Chain™ helps you understand the challenges women leaders in supply chain face that often go unnoticed. We applaud their breakout achievements and the humble starts that positioned them for their success stories, ushering in change at businesses across the global supply chain. In our Women in supply chain™ blog series, readers hear first-hand about their experience, the challenges they've faced and overcome, and the career advice they have for other women working their way up the chain. This month we're thrilled to honor Tendai Masamba, Head of Operations and Supply Chain at Abodo Wood Ltd. Tendai boasts over two decades in supply chain and leadership roles with a Master's in Manufacturing Information Systems from the University of Auckland and a Bachelor's in Electrical Engineering from McMaster University. She is dedicated to aligning supply chain and business strategies, leveraging end-to-end supply chain visibility, and delivering better outcomes via robust scenario planning and innovative process improvement. Tendai is a highly collaborative, conceptual thinker who is passionate about working strategically with a coalition of partners to achieve early wins, alignment, and success.
    1. How did your supply chain journey start?
I was raised in a household of strong women leaders. My mother is 95 years now. She raised us to believe in ourselves. There was never a task restricted to a woman or man's work. That's the mentality my mother sent me into the universe with, along with the endless support and love of my twin sister, Tafadzwa. My sister has made such a huge difference in my personal and professional life, always ready with a shoulder to lean on, no matter the circumstances. I grew up in rural Zimbabwe. We grew all our food and sold some for cash. My mum expected us to work before and after school, instilling a strong work ethic in both of us from a very young age. Tafazdwa and I left home for high school when we were fourteen years old, and that started our adventures. We knew that our work needed to be successful, we didn't have electricity in our house so we used to study in the council study rooms that were 5km away, usually finishing around 11 or midnight. The only other people out when we went to head home were drunks. Unbelievably, people even accused us of prostitution because of the late hours we spent studying. But Tafazdwa and I never let that bother us. We kept working and studying late at night, and we were rewarded. All those late nights studying scored me scholarships to study Engineering in Canada, which was the beginning of the doors opening for me. My first job was working on the electrical wiring of commercial buildings. Then I moved on to consulting, which got me hooked on supply chain. Today, I have been in supply chain now for more than 25 years. I've had the privilege of working at many of New Zealand's largest companies, providing plenty of learning opportunities. I have now had the honor of leading people and inspiring a few on the way. My focus now is to train and empower the next generation of women leaders in supply chain.
    2. How have mentors supported your career growth in the supply chain?
My mother raised us to have a great work ethic and not to limit ourselves to gender stereotypes around what work women should do. But I never had a professional mentor in the traditional sense. Not officially. I have always learned from those around me. I am also very fortunate that my twin sister Tafadzwa has been a lifelong companion. We have coached and mentored each other over and over again. Additionally, I have a progressive husband who supports all my personal and professional aspirations.  
    3. Tell us about what it's like to be a woman in a male-dominated industry:
In retrospect, maybe because of how I was raised and the close family ties to women throughout my lifetime, it has never been an issue for me. Maybe because, like when Tafadzwa and I had wild accusations aimed at us for keeping late hours studying because of our gender, I've never let what others think phase me. I have always felt that I am where I am meant to be—without questioning my purpose or potential. In high school, my twin and I always hung out with the boys because of the STEM subjects we embraced: mathematics, physics, and chemistry. Over the last two years of high school, we had just four girls in our class of 22. Sadly, the numbers haven't changed for the next generation—I see those same male-to-female student ratios for my daughter in her classes. University was the same. Normally, I look around the room, and not only am I often the only woman, but I am also the only black person. Sometimes the room is bigger than me, with more diversity, so I learn. When the room is smaller, my hope is I can teach a few people who will walk away with some of my experience. I have never felt limited because of who I am or my gender.
     4. When did you find your voice among women leaders in supply chain?
I've always had a strong voice. Sometimes it was a roar, and that got me in trouble. Sometimes it was a whisper, or I was silent altogether because I could not afford the consequences.  As I matured and became more financially secure, I've been comfortable being open and more vocal about the things I care most about. If I were to pinpoint a moment when my professional voice and mentality really clicked into place, it started about three years ago. I took a leadership mindset course at Auckland University. Through that process, I was able to connect the outer world to the inner realities that I have always had.  
     5. What's next on your supply chain journey?
I have learned that I have the tools I need to be anything—to create and realize my greatest ambitions and aspirations. Looking ahead, I still have many mountains to climb, giving back to my community, documenting our family history, and of course, supporting my family.  I just hope I have the time.  
      6.  What advice do you have for women on how we can all close the gender gap in supply chain?
Believe in yourself. Your inner realities shape your outer form. Second, find someone who believes in you but, most important, challenges you and gives you straightforward feedback. My mother has always said that if you know you are doing something wrong, and no one offers guidance—leave. Find a better place and advocates who care about your future. "Feedback is a gift." If success is an equation and you fall n times, get up up n+1. Never stop getting back up—that's what can help you realize your greatest aspirations.  
      7. What are the major milestones you're working towards this year?
  In a year, I hope I am a better leader and that I've created better outcomes for my team and others whom I care about. I also want to write a business case for the "Zim project" about giving back to my community—sharing it with potential investors. Finally, I aim to record ten to fifteen hours of my family history to pass on for generations to come. You can follow Tendai Masamba on LinkedIn for more insights.
Meet Our Sponsor
This Women in supply chain™ feature was sponsored by Sifted. As a business dedicated to empowering confidence within the shipping industry, we're proud to support Women in supply chain™. Sifted is the leading logistics intelligence software that combines insights with expertise to empower bigger, smarter shipping decisions. As growth and disruptions present ongoing challenges for supply chain leaders, thousands rely on Sifted to set their businesses up for success. Learn more at sifted.com.  
About the Author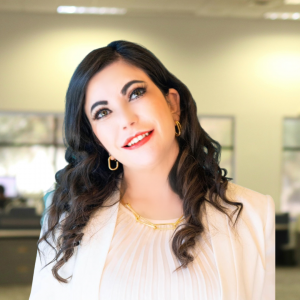 Naomi Sylvian (She/Her/Hers) is a Senior Manager, Supply Chain Solutions Marketing at Anaplan where she supports brand awareness and expansion—leading marketers to simplify supply chain planning, make it profitable, and ignite agility by integrating other key business planning areas. Naomi has 16 years of marketing experience and is passionate about telling stories that matter. For over a decade, she has been committed to highlighting the voices of female thought leaders in male-dominated industries. Naomi's LinkedIn Newsletter, The Chain Explained helps break down supply chain concepts and disruptions to give industry outsiders a greater understanding of how they impact their everyday lives.