It's a new year, and Bloomberg has already coined it the 2023 hangover for supply chain leaders. Because professionals across the global chain are still rebalancing inventory levels and offshoring strategies after the start of the decade, hallmarked by unprecedented chaos that pushed the supply chain front-and-center for business leaders and consumers. U.S. Secretary of Transportation, former Southbend Mayor, and a previous presidential candidate, Pete Buttigieg has been keeping a vital drumbeat in the media and on his personal Twitter feed around the importance of a resilient supply chain workforce. Never in modern history have supply chain leaders had more visibility, vulnerability, or accountability laid squarely at their feet. And even with global downturn and anticipated economic stagnancy, and lower shipping container volume, supply chain disruption—fueled by climate events, changing ESG regulations, evolving consumer expectations, and other geopolitical tensions are an industry constant. "Hangover" might be the perfect summation of the exhaustion and burnout across the global supply chain and logistics community. Meanwhile, new challenges are still coming painfully into focus. Climate change is driving additional obstacles, and government intervention in ESG planning after recent research found countries everywhere need to catch up on emissions goals. The UN is still pushing governments globally to set new goals and make deeper cuts to counter the highest temperatures on record predicted for later this year. Diversity in leadership and approaches has never been more important for supply chain.   And according to the experts, gender diversity specifically is an often overlooked investment. Harvard Business Review cites that women in business score higher than male counterparts in key leadership areas like resilience and solutions-driven acumen, teamwork, and decisive leadership. At Let's Talk Supply Chain™, we think every business can identify smarter outcomes when more diverse voices are in the mix. We're dedicated to closing the supply-chain gender gap by bringing more visibility around female trailblazers in the logistics community who are making unapologetically bold moves and breakout career advancements. Each month our Women in supply chain™ blog series brings you the latest woman leaders and influencers so you can hear how they are making waves across the supply chain and bringing new solutions. They share their supply-chain beginnings, their hard-fought challenges, and the career insights they have for other women already in or interested in logistics. This month, we're proud to feature Mindy Davis. Mindy is the Vice President of Global Marketing at SAP over Digital Supply Chain, where she leads the content and events strategy while bringing an eye for metrics and ongoing improvement. She is a strategic thought leader and subject matter expert boasting more than 24 years of experience in business logistics, consulting, and marketing. Mindy is focused on offering sound, innovative strategic leadership while cross-collaborating with other teams for stronger business outcomes. Mindy boasts an MBA in marketing from Georgia State's J. Mack Robinson College of Business and a Bachelor of Science in Marketing from Miami University.
First, Meet Our Sponsor
Women fuel the success of some of the world's most successful businesses, yet barriers still exist. SAP is committed to supporting and elevating a new generation of women to profoundly lead and impact global supply chains and are proud to support the Women in supply chain™ Series and its efforts. Supply chains need to evolve from low cost and optimized to risk-resilient and sustainable and SAP can help. SAP Digital Supply Chain solutions connect the entire process — design, planning, manufacturing, logistics, maintenance, and service; connecting your supply chains to the rest of your business and all your contextual data; supporting your efforts in alleviating risk in your supply chains. SAP is the market leader in enterprise application software and for the last 50 years has been helping companies to run better. Find out more at sap.comscm  
     1. Tell us about your journey in supply chain:
  Years ago, when I graduated from college, I was part of a business management training program—putting my logistics skills to work in a warehouse in Atlanta. My day started at 4:30 a.m., scheduling trucks and warehouse operators until the shift change at 3 p.m. when my management training started. I'd go home and crash around 8:00 until it started again the next day. It was grueling, but what I love about logistics is the 'puzzle' you assemble (and then re-assemble) almost hourly. I found my passion for technology when I started programming in the warehouse to make my work life (and all our employee lives) simpler. Then I went to work for a data research firm in the Consumer Products industry to leverage my Marketing degree, where I realized how much data and analytics can help inform smarter business decisions. Fast forward to an 18+ year career at SAP and while I am still putting puzzle pieces together, now it's on a much larger scale. I'm managing more than just warehouse operations. I am responsible for marketing SAP's entire portfolio of solutions across the end-to-end supply chain from designing, planning, manufacturing, delivery, and operations. I get to lead a team of fantastic talent who sit around the world and connect with leaders across functions (i.e., Solution Management, Development, Operations, and Sales), customers, and partners to create marketing plans to fulfill pipeline and revenue targets. I'm always working to remove roadblocks with my team so we all thrive while watching how the headlines impact our customers' daily supply chain challenges. So, while the puzzle constantly changes, I have all the right pieces to solve the challenges that sit in front of me with my Marketing expertise, passion for technology and insights, and people.  
  2. What has your experience been as a woman working in a male-dominated supply chain technology space?
  Dynamic—I am actively watching history evolve every day. Being a female leader has opened doors to unique opportunities. I've led many women's networking activities, hosted my own LinkedIn Live series for "Women in supply chain™," and participated in the SAP Women in Business Network—meeting talented female colleagues from diverse backgrounds. I see women leaders rising to the top. Not only at SAP but also climbing the ranks with many of our customers and partners. Our force is strong. I hope you ask me this same question in the future, and I can answer, "it isn't a male-dominated industry anymore." .
  3. What have been the biggest takeaways from your mentors?
  I worked as a consultant for a software company early in my career, and in my first week on the job, I was invited to a board meeting with a client to discuss the project. Five middle-aged men were sitting at the table before our consulting team of me and my three male colleagues. When I entered the room, a senior female executive (who would become my mentor) pulled me aside and said, "Go show these men what you got, Mindy. You are powerful." I was irritated that she'd pull only me aside and not the men with me. I didn't understand that we were selling ourselves for the consulting engagement. I took my seat at the table (right next to the COO), and when it came time for me to speak, my mentor's few words gave me the extra jolt of confidence to shine in the meeting. She was my first mentor, and the client selected me for the project. I love telling this story. After that first mentor advocated for me, I fully believe in having mentors, coaches, and mentoring others. I often find someone outside my reporting structure in another functional role, regardless of gender. The more perspectives you can garner from others' experiences, the more you learn and grow in your career.  
  4. How did you find your voice as an influencer in supply chain marketing and technology?
  Last year at SAPPHIRE Orlando, I had the opportunity to speak about Digital Supply Chain on live TV in front of hundreds of thousands of viewers. I spoke right before our CEO arrived on stage to welcome the live crowd. I knew the topic, but I still studied, worked with a speaking coach, watched videos, connected with mentors and other successful leaders, and practiced my talking points repeatedly and in front of a mirror. Then, the night before, I relaxed. It's funny, I've been writing and speaking throughout my entire career, but for some reason, the live TV aspect made me incredibly nervous. I realized that it's true—you know more than you think you do. The answers just flowed. I didn't want it to end. I was so proud of my big 'moment' on TV.  And it continues to this day—I was recently featured on the front cover of CIO Look Magazine and have unleashed my voice across mediums through speaking and writing.  
  5. What advice do you have for other women looking to lead in supply chain technology?
  Carve your path based on your passion and skills. Demonstrate a strong work ethic by always following through on your commitments.  Take risks—get comfortable with being uncomfortable. There have been multiple times in my career when I was unhappy. Instead of stewing, I created my job description and then manifested my professional goals in my daily activities, reaching out to executives to offer my leadership and skills. Yes, I was anxious about rejection, but I always moved forward. I have created new business charters due to my motivation and clarity on what I have to offer, aligned with my aspirations.  
  6. What are your big goals for this year?
  Be present. I'm working on letting go of the 'small stuff' and focusing on making a big impact by embracing every moment. Develop solid and meaningful connections. I recently read an article in Harvard Business Review about an 85-year-old study on 'happiness.' The findings reveal what social creatures we all are and that the path to happiness is fulfillment through our connections with people, not the quantity, but the quality.  Do you have people you can confide in?  Have fun with?  Have common interests?  This includes both personal and professional. And finally, embrace conflict. I am learning how to navigate healthy conflict to help move the needle and make positive change.  
  7. What have you learned on your supply chain journey so far, and what's next?
  I've learned that no one but me defines me, what I want to do, and whom I want to be. I can carve my path if I demonstrate passion, leadership, and a strong work ethic. The more I learn, the more confidence I gain. In the face of change, staying calm and focused keeps me on pace and ahead. Let go of past mistakes, learn from them, and keep moving forward. Prioritization, time management, and big impact hold much more weight than daily chaos. I'm embracing a growth mindset.  
  8. Is there a woman leader who inspires you?
  Michelle Obama is my role model, both as a professional and as a mother. She is intellectually driven and lives her life guided by her moral compass. Michelle has had many different roles throughout her life, from student, lawyer, daughter, sister, mother, nonprofit leader, author, and of course… First Lady). She continues to grow as her own person. I, too, have to manage a full-time job, my two kids, my marriage, my friends, and my extended family while maintaining balance and a healthy lifestyle. Ms. Obama seems to do it all with grace and compassion; wow, she has a voice. My motto is "YOLO" (You Only Live Once). I always strive to put myself in as many different experiences and roles as possible, so I'm always evolving. And I try to follow in Ms. Obama's footsteps, to live, learn, and grow with each moment.  
  10. What does being recognized in the Women in supply chain™ Series mean to you?
  I am an unwavering advocate for women in the workplace, especially around supply chain topics. So, I was thrilled when Let's Talk Supply Chain reached out about being featured in Women in supply chain™. Having a 'voice' for women in the marketplace brings fulfillment to my work every day. It inspires me to keep going and to share my knowledge and connections with my network and beyond. I want my daughter to learn how to raise her voice for positive action.  
About the Author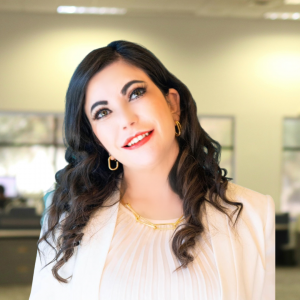 Naomi Sylvian (She/Her/Hers) is a Senior Manager, Supply Chain Solutions Marketing at Anaplan where she supports brand awareness and expansion—leading marketers to simplify supply chain planning, make it profitable, and ignite agility by integrating other key business planning areas. Naomi has 16 years of marketing experience and is passionate about telling stories that matter. For over a decade, she has been committed to highlighting the voices of female thought leaders in male-dominated industries. Naomi's LinkedIn Newsletter, The Chain Explained helps break down supply chain concepts and disruptions to give industry outsiders a greater understanding of how they impact their everyday lives.