With a decade hallmarked by disruption, consumers are more aware of supply chain and how industry shortages, talent gaps, and climate events impact their daily lives and local communities. The headlines are keeping a steady stream of supply chain dialogues popping into Twitter and news feeds—there's even a recent indie-rock album by Jack White named Supply Chain Issues. A term that once only resonated with industry insiders is everywhere. Supply chain once a shadow operation consumers weren't aware of that was looked at as a basic operational function is now recognized as a strategic business arm responsible for driving resilience and innovation. Geographic tensions, a move to ESG, and the ongoing labor shortage are major factors that continue fueling the ongoing waves of delays, shortages, and price hikes. One dialogue that is still catching fire is how closing the gender gap in supply chain can help the industry build its ranks and agility. Because having more Women in supply chain™ leadership and operations teams isn't just the right thing to do, it can help move the industry forward. There are hard facts showing women bring more curiosity and agility to their organizations to empower standout performance. At Let's Talk Supply Chain, we're dedicated to closing the gender gap in supply chain by highlighting women making leaps and bounds in their careers to support smart new approaches. Every month our Women in supply chain™ blog series brings you the female thought leaders who are making bold moves and shaking up the industry as we know it. Let's Talk Supply Chain gives them a platform to share what drives them and how they are igniting real progress at their organizations. Let's Talk Supply Chain™ explores challenges women supply chain leaders face that all too often go unnoticed. We celebrate their breakout achievements and the beginnings that positioned them for their recent success stories, ushering change at businesses across the global supply chain. In our Women in supply chain™ blog series, readers hear from female trailblazers across the global industry about their experiences, the challenges they've faced and overcome, and the career advice they have for other women working their way up the chain. This month we're proud to feature Erica Patterson, Director of Contracts Management & Supplier Diversity at Philadelphia Gas Works. Erica is an accomplished contracts specialist with education experience at the University of Phoenix where she earned a Doctorate in Management and Organizational Leadership.
First, Meet Our Sponsor
Women fuel the success of some of the world's most successful businesses, yet barriers still exist. SAP is committed to supporting and elevating a new generation of women to profoundly lead and impact global supply chains and are proud to support the Women in supply chain™ Series and its efforts. Supply chains need to evolve from low-cost and optimized to risk-resilient and sustainable and SAP can help. SAP Digital Supply Chain solutions connect the entire process — design, planning, manufacturing, logistics, maintenance, and service; connecting your supply chains to the rest of your business and all your contextual data; supporting your efforts in alleviating risk in your supply chains. SAP is the market leader in enterprise application software and for the last 50 years has been helping companies to run better. Find out more at sap.comscm  
1. How did you start your journey in supply chain?
  My career trajectory was different—I fell into Supply Chain. I started out in Human Resources as an HR Payroll Clerk for a Petroleum Company. Human Resources provided a sense of fulfillment, I enjoyed helping people fulfill their potential, hiring the right applicants to fit the right jobs, and empowering them to thrive in their roles.  HR as a profession allowed me to express my personality, talking to diverse groups of people and working across recruitment, payroll, compensation, and professional development.  Then things shifted, and I started to feel like the work I was doing was becoming more transactional and less transformative.  I wanted to bring meaning or value to my work and organization, and this was my "Ah Ha" moment it was time to find another career path where I could transfer my skills while elevating my experience to reach my full professional potential. I decided to explore other internal opportunities. A Procurement Analyst position was posted, and I said "Wow, what better way to learn more about a Petroleum Company than through a procurement position on the Refinery side of the business."  I interviewed and was offered the position as a Procurement Analyst— jumpstarting my Supply Chain Management career. I found a career path forward that I could grow in and more importantly, use my voice to bring value to the work and organization.  The transition was challenging and rewarding at the same time. Making the decision to move from HR into Supply Chain Management wasn't easy.  This transition helped me get comfortable with being uncomfortable and opening myself up to learn about the company through a different lens.  Both professions are my passion.  With over 20 years of professional experience spanning private and public sectors in Pharmaceutical, Petroleum, Chemical Manufacturing, Private Real Estate, and Utility industries, my professional experiences include Business Management, Business Administration, Human Resources, Supply Chain Management, and Supplier Diversity.  I have 15 years of experience directly in Supply Chain Management—Purchasing, Warehousing, Operations, Contract Services, Strategic Sourcing, Supplier Relationship Management, and Supplier Diversity. I have grown and love what I do, it feels transformative, and that gives me a sense of reassurance that Supply Chain Management and Supplier Diversity is where I belong. Over the years, I have received recognition and honors for my hard work, dedication, commitment to excellence, leadership, and exemplary contributions to the profession of Supply Chain Management and Supplier Diversity. My educational background keeps me close to Human Resources and Supply Chain Management from a holistic approach. I successfully defended my dissertation on "Leader-Follower Perceptions of Servant Leadership Trainings in Municipal Organizations" in April 2020. I earned my Doctor of Management (DM) degree in Management and Organizational Leadership.  Furthermore, I hold a Master's degree in Management (MM) and a Master of Arts in Organizational Management (MAOM) all from the University of Phoenix.  My Bachelor of Science (BS) is from Penn State University in Business Management. My experience and passion for both Supply Chain Management and Management and Leadership Development have enabled me to motivate my team during difficult times of the pandemic, civil unrest, and ongoing supply chain disruptions.  
2. Have you had mentors or colleagues you admire in or outside of the supply chain community?
  Mentorship was instrumental during the trajectory of my career, it's key to professional and personal development. A mentor is someone who can help you grow your skills, make better decisions, and gain valuable career and life insights.  I have been fortunate to have mentors since my high school, undergraduate, and postgraduate studies. As my career developed, I learned that one mentor wasn't enough. I needed to expand my horizons and have a personal and professional "board of directors". In the early phases of my career in Supply Chain Management, I developed a mindset to think of myself as a business-of-one and my board consists of a mentor, advocate, champion, friends/peers (sounding board), and coach. Each person on my board is instrumental in my brand, focus, and motivation personally and professionally.  As a female in Supply Chain Management having diverse perspectives is essential in this field.  
3. Tell us about what it's like to be a woman in a male-dominated industry:
  Male-dominated industries can reinforce harmful stereotypes and create toxic environments that make it even more difficult for women to excel. Female professionals like me face significant challenges working in a male-dominated industry, including imposter syndrome, societal expectations and beliefs that women's leadership abilities are sub-par, unfair pay gaps, gender discrimination, added pressure of working under a microscope, and/or the assumption women don't understand how to do the job.  These are still harsh realities today.  As an African American female working in a historically male-dominated industry, I used to be worried about my male peers taking me seriously or would I just be a voiceless female in the room taking notes. I never knew what imposter syndrome was until later on in my career when I learned through mentorship, training, and self-perseverance to own my own power. Now, I know how to take control of what I want versus what I do not want. I show up as my authentic self—freeing my voice. I've learned in practice how to be transformative by being part of the solution and not the problem, and continue to always be a sponge—never stop learning, growing, and thinking strategically.  This mindset has helped me lead with humility, passion, drive, focus, and innovation.  Every woman in her career reaches a point when she knows they are not needed to just take notes but to take charge. My motto is, "If there is no room for me at the table, I will bring my own chair or table."  
4. When did you find your voice in supply chain?
  I've always had a strong internal voice, but it was a while before I was ready to make my voice heard. As a female in a male-dominated industry, I made mine heard when I found confidence in my work. I realized the value I bring to the table because the work is my passion. I learned how to move from working as an admin taking notes in meetings to engaging in the dialogue that was unfolding around me—eliminating my imposter syndrome for good. I knew I belonged in the role, but more importantly, I knew I belonged in the room with my peers. During my career trajectory and even today, my voice will be heard. We will never be heard or bring change if we remain silent.  
5. Who do you admire in supply chain or outside of it?
  I admire Indra Nooyi, a businesswoman and former Chief Executive Officer and Chairperson at PepsiCo. She is an Indian-American woman who is powerful, empowering, motivating, and believes in creating a vision and unleashing the momentum of her people. She represents a true Servant and transformative Leader. Indra's career path and story are amazing. I admire women who are strong (despite all odds), strategic thinkers, and risk-takers, who know their voice matters and can bring change no matter the odds or obstacles. Indra is a huge personal, and professional inspiration.  
6. What advice do you have for women in advocating for themselves and others in supply chain?
  Always remain true to yourself, and never be afraid to say no, and break barriers. Stay open to change. Don't be afraid to be unapologetic, and always know your worth. Last, always lift up and empower other women—straighten their crowns and yours. My two favorite quotes to live by are: "You meet people where they are, to bring them where they need to be." From Dr. Michael Dyson. And, "Good, Better, Best, never rest until your good is better and your better is best," by Dr. Shawn Boone.  
7. What's next on your supply chain career journey?
  The future is very bright for Dr. Erica Patterson, this journey isn't over. I've learned to say no more and stay positive. I am working towards becoming an Adjust Professor, teaching is another passion. I'm also on track for a promotion to Vice President. And lastly, I'm ready to travel—I'm thinking Dubai, Paris, or Greece, all the beautiful places I want to explore.  
About the Author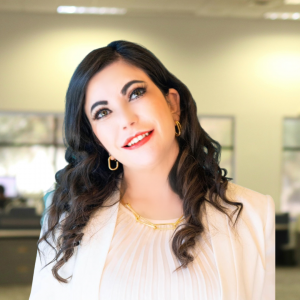 Naomi Sylvian is a content marketing leader with more than 17 years of experience, and the editor of Let's Talk Supply Chain's Women in supply chain™ series. Her works have appeared on Forbes, Mashable, Business Insider, The Muse, and Yahoo, and have been mentioned by The New York Times Online. Naomi mentors at-risk teens to fight recidivism and contribute on a local level, working with the Arizona Department of Juvenile Corrections. Subscribe to her LinkedIn newsletter, The Chain Explained, for all things Supply Chain broken down with as many pop-culture references as possible, or view her marketing portfolio online.