Over the last few years, rapid fluctuations in change and availability have brought different approaches to transportation and logistics. Bringing more diverse voices to these areas of supply chain can only help to weather the latest logistics disruptions. In fact, according to Forbes, growing diversity in your industry and workplace means happier team members, higher levels of engagement and collaboration, and more revenue. We already know that bringing more Women in supply chain™ can stoke more curiosity and agility—helping organizations achieve and maintain breakthrough business performance. And in our disruptive, nonstop, digital age with no shortage of supply chain challenges, diversity is just what logistics and transportation need to keep up with demand and broaden a shrinking talent pool. Because even as most of us get our third Covid booster shots and leave the masks behind, the shortages and industry challenges aren't going anywhere. Meanwhile, new challenges are on the horizon, with climate change imposing additional issues and government intervention in ESG planning becoming a strong probability after the latest findings that countries are falling short on emissions goals across the globe and need to get more aggressive to save the planet. In fact, the United Nations is urging governments worldwide to set new goals and make deeper cuts to limit impending temperature increases.  Logistics leaders are already anticipating significant ESG changes with the new Supply Chai Act going into effect soon. The likelihood of more governments responding, as Germany has with a fresh set of environmental and labor requirements, is increasing daily.  At Let's Talk Supply Chain™, we know you can find more intelligent approaches when more women and diverse voices are in the mix. We're dedicated to eradicating the supply-chain gender gap by bringing more visibility around women leaders in logistics who are making unapologetically deliberate moves and achievements in their careers. That's why every month, our Women in supply chain™ blog series brings you the latest female trailblazers who are making waves and reshaping the logistics and transportation industry as we know it.  Women in supply chain™ blogs dive into the challenges and areas for growth women supply chain leaders navigate that usually go unnoticed. We applaud their breakout achievements, launchpads, and beginnings that brought them to where they are—making standout business achievements across the supply chain. In the Women in supply chain™ blog series, we hear from female trailblazers across the global industry about their surprising beginnings, their stories, the challenges they've overcome, and the career advice they have for other women working their way up the chain. This month, we're proud to feature Shannon Hamilton. A self-described culture enthusiast, Shannon is a Revenue Leader with an emphasis on Freight Tech, Block Chain, and Supply Chain. She boasts nearly three decades of experience in supply chain and operations and is the Vice President of Sales for BlackBerry Radar, overseeing the company's Strategic Growth and Adoption. Shannon is the Global Strategy Vice President of the Blockchain Supply Chain Association,  an advisory role that keeps her committed to promoting Blockchain awareness, education, and adoption across the logistics, transportation, and supply chain community.  She achieved a degree in Operational Leadership at Queen's University through its business program after earning a bachelor's degree in Anthropology from McMaster University. Shannon has a master's in Leadership from the York University Schulich School of Business. 
     1. How did your supply chain journey lead you to where you are today?
I started my career in operations, regularly tasked with fixing problems and improving processes. I was trusted to lead small teams early in my career. I quickly grew my experience and responsibility—leading larger teams and cross-function business groups.  In customer-facing roles, I've worked directly with them to get the most out of the solutions I represented. I built a track record of being the "build it/fix it person," known for developing highly-engaged teams and regularly challenging the status quo.  While supporting our B2B sales organization at American Express, I was approached by a leader I greatly respected who suggested making a career change to a leadership role over a sales team.  I had never considered myself a salesperson, but I knew I was passionate about our business. I was confident I could be a good leader for the team, so I took a considerable risk. I stepped out of my comfort zone and into something I had never done before.  It was a fantastic decision, and I have enjoyed being in sales ever since. Since then, I've moved across industries, tapping into my sales and leadership skills, working for organizations that are disrupting traditional business processes.  Working in operations, customer success, and sales have given me a deeper perspective on how all parts of an organization need to work together. You need to connect the dots and have all the functions in alignment to deliver for the customers and build a profitable competitive company with a resilient supply chain.  Today I am leading Global Growth and Adoption for Blackberry Radar where I am able to leverage all of my functional experience across transportation and supply chain to help organizations to maximize and extend the use of their asset management data.
         2. What drew you into the Blockchain thought leadership community? 
You get to experience firsthand how interconnected all the functions are—supply chain in a microcosm. Just before COVID, I found myself joining an emerging technology company focused on enterprise Blockchain.  I was collaborating with supply chain leaders on problem areas where multiple parties rely on information sharing necessary to improve processes in support of the movement of goods.  Retail, CPG, and Manufacturing—all of it exposed me to the challenges across the supply chain and the need to foster ecosystems of companies that benefit from working together to solve their supply chain issues.   Many organizations compete on the shelves, but as an industry, they want to work together on innovation while sharing best practices.   Discovering the importance of information sharing led me to advocate for harnessing data to improve business processes. Data without workflow or logic isn't smart data.  You need to be curious to learn and understand how companies work internally and across the supply chain.  Often when you can identify where friction or re-work happens, there is an opportunity to harness data more effectively. Ensuring all stakeholders have visibility and can share data with trust and transparency can be a game changer.
      3.  What has your experience been as a woman working in a historically male-dominated industry?
I have to be honest. There have been challenges, and it can be tough to have your point of view heard.  I've learned to work at building consensus outside of meetings. That means working with individuals to understand their goals and needs and then collaborating in a larger forum to bring them together to provide decision-making support. 
      4. Have you had a mentor in your career? How did they help?
I've been fortunate to have had a few critical mentors throughout my career.  They all challenged me to think differently, gave open, direct feedback when others refrained, building trust and encouraging me to take risks.   A great mentor also taught me that taking on mentees is always an opportunity to learn more about yourself. It's never a one-sided relationship, and you should embrace learning from one another.
      5. Who inspires you in or outside of the logistics and transportation industry?
Outside the industry and for leadership inspiration, I love Simon Sinek!  Leaders Eat Last and Start with Why are gems. Simon Sinek shares that  "People don't buy what you do; they buy why you do it.  Also,  "(a) great leader will always put [themself] last."   In Sinek's opinion, "[t]he true price of leadership is the willingness to place the needs of others above your own." Inside the industry,  I admireJohn Bayliss, Executive Vice President, Transformation Officer at Walmart Canada. Just before COVID, we were collaborating on a highly visible project using emerging technology.  When many leaders decided to park or postpone projects, John pushed his entire team and all of us to see the project through.  He had great vision. John is highly thoughtful about his team and the business partners he relies on across his supply chain.
     6. When did you find your voice and bring your authentic self into your career in supply chain?
Being authentic matters. You can drive the highest sales and cost savings, but if you aren't trusted or approachable, you'll be challenged to build a highly engaged team. You need that for a team that wants to put all their effort into what you are striving to achieve.   There was a point in my career when my leader cared enough to take me aside and told me,  "Shannon, you're driving great results, but your team isn't behind you.  You're charging up the hill, but if you stopped to turn around and look, you'd see the team is still at the bottom. You need to slow down and bring your team along for the ride with you." I was pushing too hard toward a goal. I wasn't appreciating how my team could help or connecting with them enough to instill trust and belief in my leadership and where I was taking us.  It's a moment in my career I will never forget.  Your people are your greatest asset. That's why being your authentic self is never a weakness. Authenticity is a strength that will pay dividends if you embrace it.
     7. What have you learned on your supply chain journey so far, and what's next?
I've learned to trust myself more and remember that even if sometimes taking risks in my career doesn't work out, the attempts themselves are critical opportunities for professional growth.  Stepping outside of your comfort zone and taking a leap can be uncomfortable, and failing isn't pretty, but it's what you do after the breakdown that matters most.    In the future, I want to continue working with leaders at companies that are pushing the boundaries on how technology can create transparent supply chains.
    8. What advice do you have for girls and women looking to enter careers in transportation and logistics? 
Embrace tackling challenges and learning new things that may feel uncomfortable at first. If trying something feels uncomfortable in the beginning, you're probably learning! Network, network, and network—in my experience, people want to pay it forward and will be generous with their time.  You just need to ask.
     9. What does being recognized in the Women in supply chain™ Series mean to you?
Being featured is important to me because in Transportation and Logistics, even when you add technology and sales to that equation, there are very few women in the sector. As women, we bring meaningful diversity in thought with new solutions to the problems we're facing across the supply chain.  Acting as a strong female role model to others looking to build a supply chain career is important to me. Visibility matters. Women need to see there are people like them succeeding in supply chain, bringing value, and advancing into leadership.  
Meet Our Sponsor
This Women in supply chain™ feature was sponsored by Sifted. As a business dedicated to empowering confidence within the shipping industry, we're proud to support Women in supply chain™. Sifted is the leading logistics intelligence software that combines insights with expertise to empower bigger, smarter shipping decisions. As growth and disruptions present ongoing challenges for supply chain leaders, thousands rely on Sifted to set their businesses up for success. Learn more at sifted.com.  
About the Author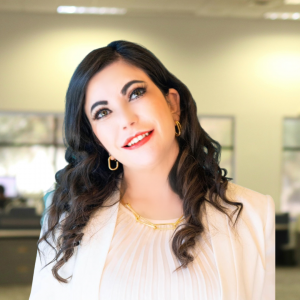 Naomi Sylvian (She/Her/Hers) is a Senior Manager, Supply Chain Solutions Marketing at Anaplan where she supports brand awareness and expansion—leading marketers to simplify supply chain planning, make it profitable, and ignite agility by integrating other key business planning areas. Naomi has 16 years of marketing experience and is passionate about telling stories that matter. For over a decade, she has been committed to highlighting the voices of female thought leaders in male-dominated industries. Naomi's LinkedIn Newsletter, The Chain Explained helps break down supply chain concepts and disruptions to give industry outsiders a greater understanding of how they impact their everyday lives.