As supply chain disruption has maintained a maddening crescendo over the past few years, empowering women in the maritime industry is coming clearly into focus as the need for more strategic leadership grows. From port congestion to worker shortages and labor negotiations to ESG changes, shipping is front-and-center in the ongoing dialogue around logistics. Experts have already highlighted shipping and manufacturing delays as a continuing supply chain challenge over the next year. Amid a global pandemic, geopolitical tensions, and port delays, leaders in supply chain are constantly navigating the latest wave of maritime obstacles. Nearly 80% of worldwide ports are experiencing notably longer turnaround times. In the pre-COVID era, late container ships were only delayed a few days. This year, only about 34% of container vessels made it to their destinations on time, with most of them delayed by over a week. McKinsey states, "Clogged ports, expensive cargo capacity, and emergency shipments became prevalent during the COVID-19 pandemic. Since then, the conflict in Ukraine has also contributed to product-line closures, transport delays, and spiraling input costs." Meanwhile, new challenges are on the horizon, with climate change driving additional issues and government intervention in ESG planning after the latest findings that countries everywhere are falling short on emissions goals and need to get more aggressive in the fight against global warming. In fact, the United Nations has urged governments globally to set new goals and make deeper cuts to counter rising temperatures. The maritime industry has never been more primed to grow a more diverse workforce and leaders. Because while women in leadership have made incredible progress over the last decade, there's still much work to do in bringing woman leaders into male-dominated workforces like the maritime industry. And according to the research, gender diversity is an important investment. Harvard Business Review found that women in business scored higher than their male counterparts in key leadership areas, including resilience and results-driven attitudes, teamwork, and bold leadership. At Let's Talk Supply Chain™, we believe every business can identify more intelligent approaches when more women and diverse voices are in the mix. We're committed to closing the supply-chain gender gap by bringing more visibility around women leaders in the logistics community who are making bold moves and breakout career achievements. Every month our Women in Supply Chain™ blog series brings you the rising female influencers and trailblazers so you can hear from the women who are making waves across the logistics and transportation community. They share their supply-chain origin stories, the obstacles they've overcome, and the career advice they have for other women in logistics. This month, we're proud to feature Lauren Beagen. Lauren is a legal powerhouse who advocates for women in the maritime industry. She is a renowned maritime industry expert known for her work as The Maritime Professorä—developing educational and e-learning resources for supply chain organizations and professionals.   Lauren Beagen went to the Roger Williams University School of Law, where her focus was the Law of the Sea, International Business Transactions, International Law, Admiralty, and the Law and History of Piracy. She also boasts a Master of Marine Affairs from the University of Rhode Island and a Bachelor's in Political Science and International Studies from Hope College. Lauren has spent well over a decade advising and educating supply chain professionals and organizations on maritime law and approaches.  
First, Meet Our Sponsor
This Women in Supply Chain™ feature was sponsored by Sifted. As a business dedicated to empowering confidence within the shipping industry, we're proud to support Women in Supply Chain™. Sifted is the leading logistics intelligence software that combines insights with expertise to empower bigger, smarter shipping decisions. As growth and disruptions present ongoing challenges for supply chain leaders, thousands rely on Sifted to set their businesses up for success. Learn more at sifted.com.  
     1. Tell us about your journey in supply chain:
I've always been drawn to the water. I grew up sailing in Michigan with my dad on the Great Lakes and followed that passion into my career. I studied International Political Science and International Studies at my alma mater, Hope College, but was still drawn to the water by joining the Hope College sailing team and renting a house right on a channel to Lake Michigan senior year. From there, I found the maritime law program at Roger Williams University School of Law. I went to Rhode Island to pursue the JD/Master of Marine Affairs joint degree, recognizing that maritime was a natural connection point between my love of the water and my educational interests in international affairs. In my career, I have been fortunate to have had opportunities in both federal regulation in Washington, DC, and boots on the dock by working at a port. My ability to connect with my clients and supply chain colleagues comes from that personal experience. I've been there, I've seen it—I understand what the industry feels like at an operational level. And I can translate the federal side because I've been one of the regulators.  
  2. What has your experience been as a woman working in a male-dominated maritime industry?
  After law school, I had my first big break in the industry, an offer to work and move to Washington, D.C., at the young age of 27. By 28, I was the international affairs attorney for the Federal Maritime Commission and responsible for the international activities of the Commission via the FMC's Office of the General Counsel. I was fortunate to work with many women in the office, and my first General Counsel (my direct supervisor) was a woman. However, the industry is slow to change. Supply chain is a male-dominated industry, and the maritime sector of the supply chain is even more so. I like to describe my experience working as a woman in the maritime industry as the exception, (not the rule). In general, I have been fortunate to have a collection of great experiences. However, every once and a while in my career, there has been an instance that would make me think, "huh, we're still stuck in these old ways?" All women in a historically male-dominated industry will have many stories of their experiences—some comical and some concerning. Enlisting a supportive network of mentors (both men and women) helped me shape a more positive experience. Having a network to strategize your career, solicit feedback in strife, and generally champion your progression is critical. There is plenty of room for all of us, and opportunities are best when widely shared. Additionally, there has been a movement in recent years to shine a light on the Sexual Assault and Sexual Harassment (SASH) of women in the maritime industry. This is critically important to ensure that our women mariners are not only safe in their workplace but feel supported to speak up when incidents occur. Going out to sea is a difficult task, but it shouldn't be made more difficult by predatory behavior.
  3. What have you learned from your maritime and supply chain mentors?
I credit my mentors with the successes I have enjoyed. One mentor advised that I seek the opportunity, not just the dream, as I faced decisions. This advice opened up my eyes to opportunities that I may not have even given a second thought to previously, which in turn led to some of my most important career experiences and learning opportunities. Mentors empower a crowd-sourced counsel of trusted and valued advisors and help expand your perception and understanding of decisions before you.  
  4. How did you find your voice as an authority in maritime law?
  Experience and mentors. We all know that the more experience you have, the more confidence you gain, but even with that confidence, a trusted advisor is often critical to sound decisions. I teach many graduate-level programs, and one of my teaching ethe is that everyone has something to learn and everyone has something to teach. By using your voice you help those around you to learn. I started my company, The Maritime Professor™, based on this premise. I am a lawyer and have many clients that seek my legal advice, but not all questions are legal. And sometimes a sharing of knowledge for educational purposes can help move the entire industry forward. Let's keep breaking down the silos of the supply chain by sharing experiences, industry nuances, and terminology. I've discovered so many parallels between ocean transport and surface transport. If we don't start to break down those misunderstandings, we will be stuck in our disconnected default ways.
  5. What advice do you have for other women looking to lead in maritime?
  Find mentors at all stages of your career. Commit yourself to learning. Find as many opportunities for exposure and experience in the field as you can. And always remember, the supply chain and maritime industry is incredibly small—be authentic, and that will take you far.
  6. What have you learned about yourself as a leader on your supply chain journey so far, and what's next for you?
  I've learned the importance of adaptability to stay current, effective, and relevant. It is so important to stay nimble and maintain a commitment to constant improvement with a growth mindset. The industry moves fast, and so do I. It's important to stay engaged in the conversation while also preserving historical knowledge and understanding the bigger picture. Moving into the future, in expanding my understanding of all facets of the supply chain, I have committed to taking a deeper dive into the surface transportation side. The more I learn, the more I want to share that knowledge so I can continue to provide helpful translations of the industry—both maritime to surface transport. In addition, I want to share my findings on surface transport on the maritime side. I'd love to be part of breaking those silos down. I am also working to continue as a mentor to students and entry-level career supply chain professionals. I have had many mentors and advisors throughout my career progression, and it's rewarding to pay it forward.
  7. What have you learned on your supply chain journey so far, and what's next?
  I've learned to trust myself more and remember that even if sometimes taking risks in my career doesn't work out, the attempts themselves are critical opportunities for professional growth.  Stepping outside of your comfort zone and taking a leap can be uncomfortable, and failing isn't pretty, but it's what you do after the breakdown that matters most. In the future, I want to continue working with leaders at companies that are pushing the boundaries on how technology and/or industry standards can create transparent supply chains.
  8. Who inspires you?
  There are so many individuals whom I admire in the maritime industry. Above all, I'm inspired by the merchant mariners (of all genders). Their job is an often-overlooked component of society, but their work keeps 90% of everything consumers use, eat, wear, etc., moving and available. They play a vital role in keeping society running, and few are aware of that. Merchant mariners continue to do important and grueling work without the recognition or the fanfare they deserve.  
  10. What does being recognized in the Women in Supply Chain™ Series mean to you?
  I am honored to be featured in the Women in Supply Chain™ series. You have highlighted so many capable and accomplished women. I am fortunate to be among the ranks. It is important to showcase a variety of women across the professional community as there are many components of the supply chain. I'm proud to represent a maritime perspective and help others expand their career considerations (and general industry knowledge) to include the ocean-shipping side of the industry.  
About the Author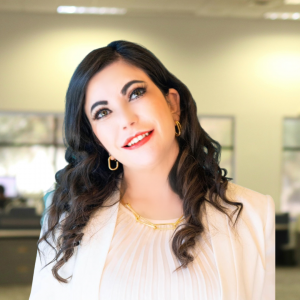 Naomi Sylvian (She/Her/Hers) is a Senior Manager, Supply Chain Solutions Marketing at Anaplan where she supports brand awareness and expansion—leading marketers to simplify supply chain planning, make it profitable, and ignite agility by integrating other key business planning areas. Naomi has 16 years of marketing experience and is passionate about telling stories that matter. For over a decade, she has been committed to highlighting the voices of female thought leaders in male-dominated industries. Naomi's LinkedIn Newsletter, The Chain Explained helps break down supply chain concepts and disruptions to give industry outsiders a greater understanding of how they impact their everyday lives.