Over the last three years, we've all seen the human side of supply chain as frontline workers and supply chain leaders have found solutions to keep communities thriving through a decade defined by constant disruption. Between climate-driven events, COVID closures, and continually growing talent gaps, the human side of supply chain is an important element that needs to come into focus—both the impacts of supply chain disruption on consumers, their communities and families. Whether it's the quick and powerful response to make new vaccines and medications available to more urban and rural communities, or working to end the baby formula shortage—supply chain professionals are working behind the scenes to protect our way of life amidst unprecedented volatility.

Even as pandemic requirements and parameters fade into recent memory, supply chain managers still face an ongoing labor shortage. The talent gap is one of the significant challenges that propel ongoing delays, limitations, shortages, and stock-outs. Meanwhile, we still aren't having enough meaningful dialogues around closing the gender gap in supply chain, and how it can help companies gain speed and grow. Because we can't look at the human side of supply chain without examining how the gender gap is holding back the industry. There's recent research showing Women in supply chain™ bring more curiosity and agility to their organizations to empower breakthroughs in performance.

At Let's Talk Supply Chain, the human side of Supply Chain drives us. We're committed to helping to close the supply chain gender gap by elevating the voices of women making leaps and bounds in their careers to support innovative new approaches. Every month our Women in supply chain™ blog series brings you the female trailblazers who are making bold moves and reshaping the industry as we know it. Let's Talk Supply Chain gives women leaders a platform to share what motivates them and how they are sparking real progress in their organizations.

Let's Talk Supply Chain™ explores challenges women supply chain leaders navigate every day that all too often go unnoticed. We celebrate their milestone achievements and the starting points that positioned them for their latest wins, ushering change at organizations across the global supply chain. In our Women in supply chain™ blog series, you hear from female thought leaders across the global industry about their roots, their stories, the obstacles they've faced and overcome, and the career advice they have for others working their way up the chain.

This month we're proud to highlight Meredith Singletary, Senior HR Director for DHL Supply Chain. Meredith boasts more than two decades of experience in human resources and supply chain. She is certified in PHR with a Graduate Certificate in Training and Performance Improvement from Capella University and a Bachelor's Degree in Business from Southwestern University.

1. How did you start your journey in supply chain?

I started in Supply Chain as a Human Resources Manager over four sites and a hundred team members. Now, decades later at DHL Supply Chain, I am responsible for 55 sites and overseeing more than 4,000 team members while heading up Diversity and Inclusion initiatives for North America. I'm proud that so much of this professional journey has occurred at a workplace focused on diversity, thought leadership, and innovative thinking and a business that is part of the solution, leveling up warehouses to meet modern challenges. I started as an Area HR Manager at DHL before moving on to be an Area HR Director and now a Senior HR Director.

2. Have you had mentors, if not, who do you admire?

I haven't had a formal mentor, but I've been gifted with many, many informal ones. I like to 'talk through' a scenario, and it's always comforting to get another perspective. Whether that's either figuring out if you are on the right track, or support to help show you that there may be something you are missing.

I enjoy listening to the podcast We Can Do Hard Things by Glennon Doyle, Abby Wambach, and Amanda Doyle. They do a good job diving into people's lives and have helped me to learn a different perspective on many different topics in a way that makes me want to learn more. The podcast and women go deep into things that I haven't thought about before, and I often come out the other side with a little more empathy and understanding for humanity—the human side of things.
3. Tell us about what it's like to be a woman in a male-dominated industry:

When I first started in the industry, I didn't really understand what it meant to be a Woman in Supply Chain. I was just a woman, going to work every day. But year over year, you learn that there are some experiences that you have as a woman that men just don't face. I'm proud to help shed light on what that story has looked like for me.

When we look at the human side of supply chain, it's important to share that being a woman in a male-dominated field can be challenging. So, having opportunities to connect with other women in the industry is a breath of fresh air. Hearing that my experiences are often mirrored by others and their experiences reminds me that I am not alone in my journey, whether it is in challenging environments or not. None of us are alone. It's important to have those discussions and reminders.

4. When did you find your voice in supply chain?
I found my voice in supply chain the first time I told a group of women what my experiences were in the industry, and they reacted with support and solidarity, I learned that the more vulnerable and authentic you are in leadership, the more people genuinely want to listen.
6. What's next on your supply chain journey?
Getting a chance to influence change in a positive way for DHL Supply Chain is quite possibly the most rewarding work of my career. I can only hope for more opportunities to continue doing that kind of work. It's been a fantastic journey thus far, and I look forward to lots more adventures ahead.
7. What advice do you have for women on how we can all close the gender gap in supply chain?
Be authentic and support underrepresented groups, including other women. It's important to find and empower a sense of belonging. People do their best work when they feel safe, valued, and accepted.

You can follow Meredith on LinkedIn for more insights.
This Women in supply chain™ feature was sponsored by Sifted. As a business dedicated to empowering confidence within the shipping industry, we're proud to support Women in supply chain™. Sifted is the leading logistics intelligence software that combines insights with expertise to empower bigger, smarter shipping decisions. As growth and disruptions present ongoing challenges for supply chain leaders, thousands rely on Sifted to set their businesses up for success. Learn more about Sifted here.
About the Author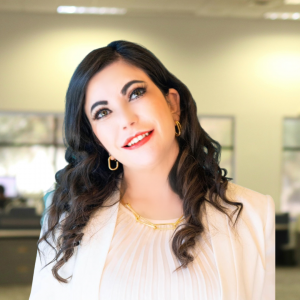 Naomi Sylvian (She/Her/Hers) is a Senior Manager, Supply Chain Solutions Marketing at Anaplan where she supports brand awareness and expansion—leading marketers to simplify supply chain planning, make it profitable, and ignite agility by integrating other key business planning areas. Naomi has 16 years of marketing experience and is passionate about telling stories that matter. For over a decade, she has been committed to highlighting the voices of female thought leaders in male-dominated industries. Naomi's LinkedIn Newsletter, The Chain Explained helps break down supply chain concepts and disruptions to give industry outsiders a greater understanding of how they impact their everyday lives.