With a decade hallmarked so far by constant disruption, consumers are more aware of supply chain and how industry shortages, the gender gap in supply chain, and climate events impact their daily lives and local communities. The headlines are keeping a steady stream of supply chain dialogues popping into Twitter and news feeds—there's even a recent indie-rock album by Jack White named Supply Chain Issues. A term that once only resonated with industry insiders is everywhere. Supply chain once a shadow operation consumers weren't aware of that was looked at as a basic operational function is now recognized as a strategic business arm responsible for driving resilience and innovation.
While the most chaotic health pandemic in modern memory hasn't helped supply chain managers, the ongoing labor shortage is one of the major factors that continues fueling the ongoing waves of delays, limitations, and stock-outs. One dialogue that hasn't really caught fire yet is how closing the gender gap in supply chain can help the industry build its ranks and agility. Because having more Women in supply chain™ leadership and operations teams isn't just the right thing to do, it can help move the industry forward. There are hard facts showing women bring more curiosity and agility to their organizations to empower standout performance.
At Let's Talk Supply Chain, we're dedicated to closing the gender gap in supply chain by highlighting women making leaps and bounds in their careers to support smart new approaches. Every month our Women in supply chain™ blog series brings you the female thought leaders who are making bold moves and shaking up the industry as we know it. Let's Talk Supply Chain gives them a platform to share what drives them and how they are igniting real progress at their organizations.
Let's Talk Supply Chain™ explores challenges women supply chain leaders face that all too often go unnoticed. We celebrate their breakout achievements and the beginnings that positioned them for their recent success stories, ushering change at businesses across the global supply chain. In our Women in supply chain™ blog series, readers hear from female trailblazers across the global industry about their experience, the challenges they've faced and overcome, and the career advice they have for other women working their way up the chain.
This month we're proud to feature Melissa Drew, Associate Partner and a Digital Transformation Executive at IBM. Melissa is a founding member and committee chair for Women Leaders in Data and AI (WLDA) and a board member of Blended, a division of Let's Talk Supply Chain dedicated to diversity and inclusion in the industry. Melissa has a Project Manager Professional (IT) Master's Certificate from The George Washington University and a Masters in Management Information Systems from Auburn University. This summer her book Transforming the Organization: Building a Flexible Foundation for Future Disruption makes its debut.
1. How did your supply chain journey start?
I started my journey in 1995, paying my way through college with a company I created. The premise was working with local companies across Alabama, Georgia, and Northern Florida developing tools to provide more visibility into their suppliers across their supply chain.
Since then, I have developed AI models for a spend visibility application (2004 – 2006). I've consulted with several global cloud (currently ranked in the top 6) procurement & supply chain application providers (2008-2012) influencing their future product roadmaps. I continue to mentor other individuals and diverse-owned companies (2006 – present). As a consultant, I have the rare privilege to collaborate with fortune 100 companies where I am making a difference.
Each step in my journey has expanded my knowledge, folding in expertise across the entire supplier lifecycle (procurement, diversity, risk, etc.) while addressing ancillary processes (tax, legal, change management, etc.) to expanding how AI is impacting us both professionally and personally as suppliers & consumers.
2. How have mentors supported your career growth in the supply chain?
I have had a few mentors in my career. I worked with my first mentor at Kearney (1998-2001). I was frustrated and walked into his office to vent elaborately about a project. He listened and when I stopped, he asked a simple question, 'when was the last time you had a day off?'. Wow, that took me completely by surprise. When I could not answer the question, he offered me the opportunity to take off one Friday each month for the remainder of the project.
I was lucky to learn very early in my career I needed downtime not just for me personally or to accommodate a work-life balance (which didn't exist back then), but to have time to think and reflect. Even now, I block out time on Fridays to think about the week, the people I've met, and the challenges I need to solve and come up with creative solutions.
Later in my career (2006-2007) my boss became my mentor. At that time, I was thinking about my personal advisory board of folks who I knew I could connect with throughout my career and who had expertise in areas where I had gaps. Even today, I still talk with her about job changes, career strategy, navigating c-suite level politics, etc. The conversations change over time because I'm always at different career stages when we find time to reconnect.
Fast forward to today, I have added a couple more to the team. Each one with a different perspective, background, or age to help me see things I sometimes can't.
3. Tell us about what it's like to be a woman in a male-dominated industry:
When I first started my professional career, I was always the first woman in the department or on a project. Whether it was developing procurement and supply chain applications, data management, process, strategy, or talking to a client, I was the only woman present. As a result, I had to find creative ways to have a voice in the conversation. I learned to talk fast, to be very concise, and jump in when anyone paused for more than a few seconds.
Today, I still talk probably too fast, but I am surprised at how much we haven't progressed. Recently, within the past few years, I was assigned to an internal female coach/mentor solely because she was also a woman. That was the only criteria they used. It was never considered that I should be paired with someone who can help set me up for success. Even just last year, on conference calls, I still see and hear male executives interrupting women during a presentation to recap what the female presenter had just communicated.
However, I see the other side of closing the gender gap in supply chain as well. We have adopted a paradigm where people hire and work with others who are more like them. Over time, this has evolved into organizations with unbalanced perspectives where managers believe having an opinion or an alternative thought process are signs of confrontation.
Conference executives are looking for more female speakers, but that also means more woman leaders need to raise their hand for speaking opportunities. Not everyone is comfortable with that. For example, a Supply Chain executive confided she didn't think she had anything worth saying.
This is just one of the reasons why I host a podcast with a focus on global women in procurement and supply chain. Just think about the ripple effect we can have—together. If each of us can assist one woman in being successful, who then assists another woman, our small ripple will have a much broader impact large enough to make waves.
Forget the gender gap in supply chain, let's create a gender WAVE!
4. When did you find your voice in supply chain?
I had to find my voice very quickly in my career to avoid being mistaken for the "coffee girl". You might laugh, but that was a thing in the late 1990's and through the early 2000s. More importantly, I had to be the one to make the effort if I wanted my voice to be heard.
There wasn't one moment when everything came together for me. There have been many moments that mattered. For example, by the time I was 32, I had my dream job at Kearney, traveled the world, and lived in Australia for a year. When I was laid off after 9-11, I felt so lost. What do you do when you've already achieved your dream?
I realized I had to come up with another dream, climb another mountain, and develop another skill. Again, I believe I was lucky to experience this early in life—it's the pattern I've adopted ever since. Every new skill supports the others and continuously adds more value for me.
6. What's next on your supply chain journey?
I have a long way to go, but the journey so far has shown me that I'm bold and assertive. I have learned to embrace self-awareness which is why I'm comfortable being uncomfortable. I am willing to make a decision with 80% of the data, and even more O.K. if I make a mistake.
I know I will be accountable and look to resolve it. I can be fiercely loyal, will have your back, and will set aside whatever time I have (after chasing my twin girls), to make time for you. I am brilliant, creative, love learning new things, and still get excited when speaking in small or large forums.The future for me is continuing to have the capacity to mentor others who will surpass me in half the time it took me to climb the ranks in supply chain. I am writing a book and have plans for many, many more. I look forward to future opportunities where I can lend my perspectives and make a visible difference.
7. What advice do you have for women on how we can all close the gender gap in supply chain?
Get comfortable with being uncomfortable. You are working with technologies today that didn't exist just a decade ago. You will work with technologies in 5 years that haven't been invented yet.
Keep asking questions—that's what keeps you moving forward.
Start thinking about your personal advisory team now, who can help you bolster some of your own knowledge gaps? Who can give you deeper insights or spicy pep-talks when you need them most?
Set aside time for yourself—thoughts and coffee—and for virtual or in-person networking.
Remember, self-awareness is the key to your growth. As long as you know how to be honest with yourself, you can keep building your skillsets.
Take the time to learn what 'showing up as your authentic self' means and looks like for you.
Oh and start an IRA or 401K sooner than later!
8. What are three milestones you're working towards this year?
In 2022, the three (3) milestones I am looking forward to are:
My modern-day female cancer warrior journey is not quite complete. I have a few more obstacles to overcome but looking to finish in early October 2022.
My first book will finally publish (they say the first book is the hardest)!
For those I am mentoring today, I look forward to seeing them continue the ripple effect by setting someone else up for success.

You can follow Melissa Drew on LinkedIn and Twitter for more insights.
This Women in supply chain™ feature was sponsored by Sifted. As a business dedicated to empowering confidence within the shipping industry, we're proud to support Women in supply chain™. Sifted is the leading logistics intelligence software that combines insights with expertise to empower bigger, smarter shipping decisions. As growth and disruptions present ongoing challenges for supply chain leaders, thousands rely on Sifted to set their businesses up for success. Learn more about Sifted here.
About the Author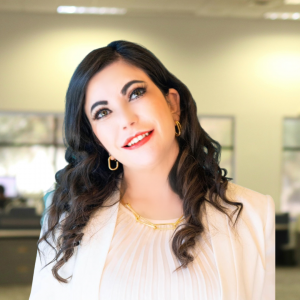 Naomi Sylvian (She/Her/Hers) is a Senior Manager, Supply Chain Solutions Marketing at Anaplan where she supports brand awareness and expansion—leading marketers to simplify supply chain planning, make it profitable, and ignite agility by integrating other key business planning areas. Naomi has 16 years of marketing experience and is passionate about telling stories that matter. For over a decade, she has been committed to highlighting the voices of female thought leaders in male-dominated industries. Naomi's LinkedIn Newsletter, The Chain Explained helps break down supply chain concepts and disruptions to give industry outsiders a greater understanding of how they impact their everyday lives.