Working your way up in supply chain is still more challenging for women. According to Gartner, women comprised less than 40% of the supply chain workforce and 21% of executive-level supply chain roles last year–a slight dip from 2021. However, while women in supply chain may have a lower chance of reaching an executive level, women (some founders) make up 19% of the supply chain c-suite. 
"Chief supply chain officers (CSOs) remain committed to gender diversity, but they will need to double-down on goal setting, leadership inclusion, and career pathing for women," explains Caroline Chumakov, senior principal supply chain analyst at Gartner. 
 At Let's Talk Supply Chain, we're passionate about helping more women make career breakthroughs across the global industry. And research shows that women in supply chain drive up levels of innovation—elevating business performance across the globe—these are the women whose stories we share monthly. Meanwhile, inflation, geopolitical tensions, and an ongoing talent shortage continue to drive supply chain disruptions–making diversity in thought more of a mandate than a competitive advantage.
At Let's Talk Supply Chain, we're dedicated to closing the supply-chain gender gap by recognizing women supply chain and logistics leaders smashing glass ceilings and gender stereotypes with big, bold career moves. Our blog series explores how these trailblazers contribute to their organizations and communities in a meaningful way. Let's Talk Supply Chain explores the obstacles women leaders continually learn to navigate, how they support each other, and how they transform how we do business.
This month, we're honored to feature Erin O'Leary,  Chief Information Officer at Janel Group, Inc. Erin has a Master's of Nonprofit Administration, Fundraising, Volunteer Management, and Administration from North Park University. She earned her nonprofit management certification through Harper College and her Bachelor's in Environmental Studies from Northern Illinois University. For nearly two decades, Erin has spent her career making an impact in the nonprofit and supply chain sectors. She has held executive board positions with the Boys & Girls Clubs of Dundee Township. 
1. Where did your supply chain journey start?
My father recruited me into the industry. The company he was doing contract work for at the time needed a super user and administrator for the logistics platform they were implementing. It was an entry-level position, and although I had a bit of a tech background, I was utterly new to logistics and supply chain. 
From day one, I sat in the bullpen with the operations team for the freight forwarder I was working at. Not only was I learning the platform from scratch, but I was also learning the business and the industry simultaneously. I was very grateful for the operations team being so welcoming and answering all my (many) industry-related questions.
I was determined that better understanding the industry and the business would make me a more successful IT person for the organization. Since then, I have grown through my several roles in IT. I went from performing administrator and basic help desk functions at a few organizations to eventually joining the leadership team for a mid-size freight forwarding and customs brokerage group. I still prioritize spending time on the business side of the house and sit with our operations teams to better understand what is happening in the business. That allows my team and I to collaborate and help develop impactful technology solutions. 
2. How have your mentors helped you move ahead?
I have had many mentors along the way. Many individuals have supported me and believed in me, even when I haven't believed in myself. One individual who has been vital over the years is Jen Parker.
Jen is an incredible female leader in our industry who is the kindest, most intelligent, and hardest-working individual I have ever met. She believed in me when I doubted myself. She helped me navigate roadblocks and created tremendous opportunities for me. And not just me. She advocates for many others. Jen showed me that you can have a career and a family and succeed at both. She is truly an incredible person. 
3. What's your experience working in a male-dominated industry?
Honestly, it's tough and can be a huge challenge at times. There seem to still be a lot of men in the industry from that truly male-dominated era, and some share the same biases and tendencies as they did five, ten, or 15 years ago. In many situations, I have often had to prove myself much more than a man would have to.
Often, a male can give an opinion or decide on a process or something else for an organization without anyone thinking twice. Now, have a woman make that decision or opinion, and it may need to be validated with a significant amount of proof, evidence, and support from others. Things are still not equal, but I do see them improving.
More women are at the table where decisions are made, and more women are now sitting in leadership roles supporting other women. We also now have men that support, mentor, and rally behind women, which is incredibly helpful. There is still much work to be done on this topic, though.
4. When did you find your voice in your supply chain career?
It happened over time. As I became more knowledgeable about the industry and technology, I became more confident when speaking with others. That confidence allowed me to contribute more in meetings and company projects and make recommendations. When I was recruited for a VP position at my current employer, Janel Group, I knew things were starting to come together, and I had an opportunity to make a more significant impact.
5. What advice do you have for women and others working their way up in supply chain?
Be confident in yourself and what you bring to the table. Don't let anyone bring you down or try to challenge your worth or value. You must push hard and challenge the norm. Don't take 'that's the way we've always done it' as gospel or the final answer. It is easy to struggle with imposter syndrome as you move up but know that if you are working hard and putting in the time and effort, you have earned it. You deserve it just as much, if not more, than anyone else.
6. Who do you admire in the supply chain industry?
 I admire all the women and men in our industry who have started in an entry-level position with an organization, worked hard, and worked their way up to where they are today. It is so important to know the business inside and out. Starting from the bottom helps you understand the business and tap into that experience as you grow within the industry.
7. What have you learned, and what's next on your supply chain career journey?
I am capable of more than I thought I was. If given a challenge, I won't quit until I find a solution. Not every answer is going to be written out for you. Sometimes you have to figure it out as you go and remain patient and confident enough to allow that to happen.
Next, I want to continue to pursue educational opportunities via courses, certifications, and industry-specific learning opportunities. I want to continue working towards maintaining a healthy work-life balance. Finding a healthy and maintainable balance can be a daily challenge, but it's possible with planning and prioritizing. Last, I want to help grow the business for Janel Group by leveraging more technologies.
Meet Our Sponsor
GoFreight is proud to sponsor the Women in Supply Chain™ blog and podcast series, recognizing women's vital role in the industry and the need to highlight their contributions and experiences. We are committed to promoting diversity and inclusion in the supply chain field and are honored to support initiatives that empower and inspire women in their professional journeys.
About the Author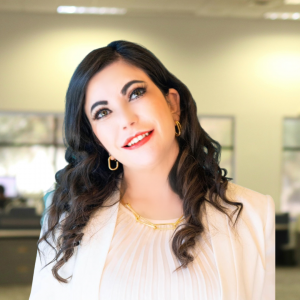 Naomi Sylvian is a content marketing leader with more than 17 years of experience, and the editor of Let's Talk Supply Chain™'s Women in supply chain™ series. Her works have appeared on Forbes, Mashable, Business Insider, The Muse, and Yahoo, and have been mentioned by The New York Times Online. Naomi mentors at-risk teens to fight recidivism and contribute on a local level, working with the Arizona Department of Juvenile Corrections. Subscribe to her LinkedIn newsletter, The Chain Explained, for all things Supply Chain broken down with as many pop-culture references as possible, or view her marketing portfolio online.