Working your way up in supply chain for a seat at the table may still not be simpler for women, even with growing market needs and challenges presenting new opportunities. Women still make up less than half of the supply chain workforce and just 21% of executive-level supply chain roles—backsliding a little from previous years. However, while women in supply chain have more challenges breaking through to executive-level positions, female professionals (founders included) comprise 19% of the supply chain C-suite.
 At Let's Talk Supply Chain, we're passionate about helping more women in supply chain blaze trails through glass ceilings across global logistics, manufacturing, and transportation. Studies show that women in supply chain spike higher levels of innovation—accelerating global business performance. These women inspire us; we hope they'll inspire others to keep going. That's why we share their stories every month.
And we hope supply chain business decision-makers take notice also. Because promoting female professionals in your ranks is proven to generate higher revenue and customer satisfaction. Over half of businesses dedicated to gender inclusion and equity have 50% higher profits and 61% higher revenue growth than their peers with less female leadership. Over 70% of these companies lead in customer satisfaction.
Inflation, geopolitical tensions, and an ongoing talent shortage continue propelling supply chain disruptions. Diversity in thought is no longer just necessary to remain competitive but also to stay in business.
Let's Talk Supply Chain is committed to closing the supply-chain gender gap by bringing more visibility around women supply chain and logistics leaders who are obliterating gender barriers and glass ceilings with purposeful career moves forward. Let's Talk Supply Chain explores the obstacles women leaders continually learn to navigate, how they support each other, and how they are transforming the way we do business.
This month, we're proud to highlight Donna Del Rosso, Senior Vice President of Transformation & Planning at GXO Logistics, Inc. Donna has built her career at Fortune 500s and startups. She is passionate about building cohesive strategies to drive revenue and profitability, expand channels, and unleash an unparalleled customer experience. Donna boasts virtually three decades of industry and leadership experience and an MBA in General Business and Operations from Florida Atlantic University. She's also earned a Rutgers University Certificate in Customer Experience Management and one from Georgia Institute of Technology for Global Supply Chain programs.
1. Where did your supply chain journey start?
I started as a dispatcher almost three decades ago—like everything supply chain—my career moved fast. I've been able to step into various leadership roles, and every new opportunity has been another step forward in my supply chain journey. A career path doesn't have to be linear. Embrace change, even when it's intimidating.
One of the most valuable lessons I've learned is to surround yourself with exceptional people. I'm fortunate to work with incredible colleagues. We're making big breakthroughs—together.
The latest step in my journey in moving from Senior Vice President of Key Accounts to Senior Vice President of Transformation & Planning has been a reawakening. It's vital to approach every new role with an open mind and as an opportunity to grow personally and professionally.  I'm discovering new ways to help make GXO even more resilient, scalable, and growth-oriented. As the SVP of Transformation & Planning, I work with over 400 global team members. Diversity in thought and collaboration is exceptionally rewarding.
2. Have supply chain mentors helped your professional momentum and opened a seat at the table?
Learning from others whom I respect—both personally and professionally—empowers me to grow as a leader and a person. I didn't have a formal mentor relationship; early in my career, there was no LinkedIn or social media. I sought out colleagues to show me who and where the decision-makers were and what moved them.
I leveraged meetings, conferences, and volunteer opportunities to build my network. Networking at these events opened otherwise hidden doors and accelerated my professional growth.
3. What's your experience working in a male-dominated industry?
I was the only woman with a seat at the table for years. Understanding I couldn't act like men made a difference for me in a male-dominated industry. I owned my identity and then, subsequently, my success. Being authentic makes amazing things happen. Forcing work dynamics and trying to be someone else isn't comfortable or sustainable.
By mid-career, I started seeing more diversity. The progress continues rapidly expanding at GXO. We see the results with the growing number of women in leadership roles backed by the organization's commitment to DE&I and promoting internally.
I'm proud that half of our GXO board is female. Women should always research how many female leaders sit on a company's board or in the C-suite to understand its commitment to gender diversity and the career advancement possible. At GXO, more inclusive leadership has improved decision-making and contributed to our organization's overall success. A win-win.
4. When did you find your voice in your supply chain career?
When I reached my thirties, I could no longer try to be someone else to appease others. I realized that being me is enough. I was the Vice President of Logistics at a previous employer and had to figure that out or fail fast. I knew I needed to believe in myself for others to do the same. I couldn't succeed professionally while trying to be someone I wasn't.
5. What advice do you have for women in advocating for themselves and others in the supply chain?
Find your own direction. Don't follow others. Seriously, do it your way. Make your career yours. Carving your own approach will always make it easier and better in the end. Challenge yourself and see obstacles as opportunities to grow—never stop learning.
Get comfortable accepting personal and professional support from others, knowing that you'll pay it forward one day. Everything comes full circle. Try to balance your spirit, your family, and your career; it's possible when you love what you do. Be authentic. Be you, and you'll be great.
Again, vet out potential employers to see how many female leaders sit on their boards and their C and V-suites. You can usually find these details on company websites. This quick research helps you to understand business values, dedication to inclusion, and how much room you might have for advancement or if your professional growth could be limited by bias—conscious or unconscious.
6. Who do you admire in the supply chain industry?
I admire many people for different reasons. The "difference-makers" stand out the most—creating opportunities for others, questioning the status quo, and giving back to their families and communities. I am still in awe of Ruth Bader Ginsberg's career and the legacy she left us with to honor and celebrate. She balanced her determination and family life and broke century-long barriers. Ruth opened doors for others for generations to come; that is her true legacy. She made a difference in millions of people's lives, and she still inspires so many of us.
7. What have you learned so far, and what's next on your supply chain career journey?
 I've learned that investing in my personal and home life supports my career growth. It's alright to accept help from others. I still struggle with asking for outside assistance, but I'm working to get better at it every day because I've learned that you don't have to go it alone.
Most women feel like they can't ask for help. You can. Accepting help is OK; it's how we bring more chairs to the table. I'm dedicated to supporting and mentoring other women in supply chain; it's been a passion and a priority throughout my career.
I meet tons of young women who are ridiculously talented but don't always see opportunities or a path forward in the supply chain industry. This Women in Supply Chain recognition encourages me to continue identifying and guiding these exceptional women in supply chain. My goal is to help them reach their potential at GXO and in supply chain.
I've had a great career so far. I never would've imagined I'd be here today or the journey that brought me here. I embrace what the future holds and see challenges as new opportunities. It's all part of the adventure.
Network with more women in Supply Chain like Donna. Unlock your supply chain success with Women in Supply Chain™! Our program delivers a unique opportunity to supercharge your career and personal growth. Join Women in Supply Chain™ to access to a diverse network of connections, proven and experienced mentors, and a supportive community that supports your unique perspectives and empowers your career advancement.
Led by experienced facilitators, Women in Supply Chain™ breaks barriers, celebrates diversity, builds bridges, and cultivates personal and professional growth.
With a $1K deposit and $100/month investment in yourself, you can secure your spot in this transformative community. Enrich your supply chain knowledge and gain insights to benefit your organization.
Join us in rewriting the narrative for women across the supply chain industry and realize your career dreams. Contact [email protected] to get started.
Meet Our Sponsors
GoFreight is proud to sponsor the Women in Supply Chain™ blog and podcast series, recognizing women's vital role in the industry and the need to highlight their contributions and experiences. We are committed to promoting diversity and inclusion in the supply chain field and are honored to support initiatives that empower and inspire women in their professional journeys.
Food Logistics and Supply & Demand Chain Executive's Women in Supply Chain award, sponsored by Let's Talk Supply Chain podcast and Blended Pledge project, honors female supply chain leaders and executives whose accomplishments, mentorship, and examples set a foundation for women in all levels of a company's supply chain network.
About the Author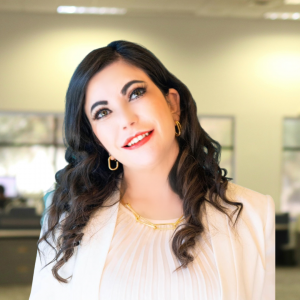 Naomi Sylvian is a content marketing leader with more than 17 years of experience, and the editor of Let's Talk Supply Chain™'s Women in supply chain™ series. Her works have appeared on Forbes, Mashable, Business Insider, The Muse, and Yahoo, and have been mentioned by The New York Times Online. Naomi mentors at-risk teens to fight recidivism and contribute on a local level, working with the Arizona Department of Juvenile Corrections. Subscribe to her LinkedIn newsletter, The Chain Explained, for all things Supply Chain broken down with as many pop-culture references as possible, or view her marketing portfolio online.