Over the last few years, a lot has changed in the supply chain industry. Fueled by constant disruptions that peaked during the pandemic and constant news headlines about the latest chain issues, consumers are more informed about supply chain and how it impacts their communities and daily lives. Once recognized as a basic operational function, supply chain is now recognized as a strategic arm of the business that supports resilience, agility, and growth.
Political and geo tensions, a hard shift to ESG, and the ongoing logistics labor shortage continue propelling delays, shortages, and price hikes. One change that is still in the works is closing the gender gap in supply chain and bringing more female leaders up the ranks. Adding more women to supply chain leadership and operations teams is smart business, that can help empower major progress across the industry. Hard stats show that women bring more curiosity and agility to businesses to drive standout performance.
At Let's Talk Supply Chain, we're committed to closing the gender gap in supply chain by recognizing the women achieving milestones and implementing new, smarter approaches. Our monthly Women in supply chain™ blog series highlights the female thought leaders who are fearlessly making moves and shaking up the industry. Let's Talk Supply Chain gives them a platform to share what and who inspires them and how they are driving real change in their businesses.
Let's Talk Supply Chain™ navigates challenges women supply chain leaders regularly face that all too often go unnoticed. We honor their breakout achievements and the beginnings that positioned them for their success stories, ushering change at businesses across the global supply chain. In our Women in supply chain™ blog series, readers hear from women trailblazers across the global industry about their experiences, the obstacles they've faced and overcome, and the career advice they have for others working their way up the chain.
This month we're proud to feature Cindy Christensen, CEO of xGlobl. Cindy is a highly accomplished and dynamic leader with extensive experience managing logistics, operations, and global supply chain. With a proven track record of increasing margins, safety, efficiency, and employee satisfaction in diverse distribution environments, Cindy is a trusted and respected leader in the industry.
First, Meet Our Sponsor
Women fuel the success of some of the world's most successful businesses, yet barriers still exist. SAP is committed to supporting and elevating a new generation of women to profoundly lead and impact global supply chains and is proud to support the Women in supply chain™ Series and its efforts. Supply chains need to evolve from low-cost and optimized to risk-resilient and sustainable and SAP can help. SAP Digital Supply Chain solutions connect the entire process — design, planning, manufacturing, logistics, maintenance, and service; connecting your supply chains to the rest of your business and all your contextual data; supporting your efforts in alleviating risk in your supply chains. SAP is the market leader in enterprise application software and for the last 50 years has been helping companies to run better. Find out more at sap.com  
1. How did you start your journey in supply chain?
Nearly three decades ago, my first supply chain industry role allowed me to transition from the food service industry, moving me into a 'graveyard' shift with very little training and no mentorship. Soon after, I worked hard as a single mother to advance to the daytime position and continue learning and growing in my career. There were a lot of struggles along the way and minimal support in my role.
In time, I was a married mother of two, still struggling to advance in seniority as a woman in the industry. I left and went back to school to learn computer programming. Going back to school as a mother of two, maintaining a job, and marriage was exhausting.
When I graduated, I took my new skill set back to the industry and joined a brokerage with an in-house programming team. It was rare to find a brokerage looking to build tech in the supply chain industry at that time, and I was excited to be a part of it. My passion for pairing industry expertise with building new solutions took my career in a new direction.
The unfortunate part of our industry is that we haven't done a great job of establishing career paths and mentorship. I continued to work hard at creating those opportunities for myself. Often this meant that the only way to advance your career was to move on to another employer. I continued to build, innovate and advance—seeing so much potential for the future. I felt the industry was moving too slowly, especially as a woman in a leadership position.
Eventually, I met my future business partner, Syl, through mutual friends. She was actively working with start-ups in the FinTech world. The more we talked about the industry, the more interested we both became in building something new that would be a game-changer for logistics. We got off the ground quickly and made progress every day. In less than two years, Community Customs Brokers had won business, notoriety, and attention across the country. By the Spring of 2019, we'd received three offers to purchase our business from other brokers and freight forwarders—including a silicon valley unicorn.  
It was a wild ride, and ultimately we decided that the offer from Flexport (the U.S.-based unicorn) aligned most closely with the vision we had for the future. We agreed to sell and join forces in the Summer of 2019. That is just the beginning of the story.
2. Have you had mentors or colleagues you admire in or outside of the supply chain community?
A few individuals stand out in my career as people who have helped shape my professional goals. It is an honor to mention them here. They have all since retired, and I hope they are enjoying every piece of it—they earned it.
Annette Thompson provided education and resources that were pivotal in my career growth. As another woman in business, she focused on empowering others to advocate for themselves. Knowing that women had a steeper hill to climb, Annette always pushed to ensure that whatever case you were making, you had the ability to find and use the legislation or historical case logic to support your argument.
Frank Robles was a powerhouse of Canadian customs clearance knowledge. The kindness and truth that he shared with me was invaluable. Frank's character and willingness to engage in mentorship helped to shape the confidence and resilience I needed to become a strong leader for others.
Linda Moore defines a strong woman in business. Linda's fortitude and strength to get the job done was a powerful representation of where I wanted to go with my own career. Her ability to engage with the old guard and to be seen, heard, and respected in that arena was and is still a huge accomplishment.
3. Tell us about what it's like to be a woman in a male-dominated industry:
It's been challenging to navigate the "old boys club" in a way that makes space for your growth, without trying to be one of "the boys." It creates a very fine line to walk. I felt welcome in certain spaces but ostracized in others.
Fortunately, it is changing. There are notable differences now from even a decade ago. At that time, I was often the only woman in the boardroom, and being heard was a challenge. Attending TPM2023 this year, meeting Sarah from Let's Talk Supply Chain, and many other wonderful women of industry was incredibly rewarding. It was refreshing being in the same room with other female founders, leaders, and executives. I love that Women in supply chain™ puts a spotlight on this growing group of successful professionals.  
4. When did you find your voice in supply chain?
There were a few events over the years where I found my voice—starting in a vulnerable place in my life—as I have learned from people and experiences. I have welcomed a stronger and more vibrant, internal voice. I've also learned a lot along the way:
I am stronger than I ever thought I could be when I started
I am capable of things that I am yet to discover
I must do the boring tasks first
I will always be engaging in learning
I know that every hour of preparation I put into something will pay off exponentially
I could not succeed without the people in my life
I have a responsibility as a leader to lift others up
I respect that my own humility must be acknowledged and shared
I need a tidy workspace, it makes me more productive
I love remote work
5. Who do you admire in supply chain or outside of it?
On a personal level, hands down, I admire my Dad. He has been an entrepreneur since the 70s and has built and sold many businesses over the decades. His drive, common sense strategies, and business ethics have been and always will be the foundation for my success. He never held back on giving me or my sisters' opportunities because we were girls. Instead, he always encouraged us. We could do it better because we were girls.
To this day, he is still the first person I rely on for business advice and I cherish his insight whenever we talk.
6. What advice do you have for women in advocating for themselves and others in supply chain?
Taking a leap into the unknown is never easy. If you aren't scared, you should be. However, with really good planning, connecting with others in the community for support and mentorship, and diving into the "I-don't-know-what-I-don't-know" realization, you are more capable of handling the unknowns as they arise.
Networking is more valuable than you realize. Reach out to as many people who have come before you as you can, and don't be discouraged when you are not acknowledged by all of them. A select few will be there and will be excited for you.
7. What's next on your supply chain career journey?
Currently, I have plans that are beginning to transition into my new reality and that is very exciting. xGlobl Inc. is my newest North American start-up. I have again partnered with Syl Urbanoski. We have grand goals for this venture and have already begun to put pieces into place that will allow us to drive our vision into a product that will be unlike any other in the industry. The amazing team of experts we are working with, along with a fierce appetite to see our vision come to life is incredible. I cannot wait to be able to share, however, we are keeping our plans confidential until we are ready to go live.
About the Author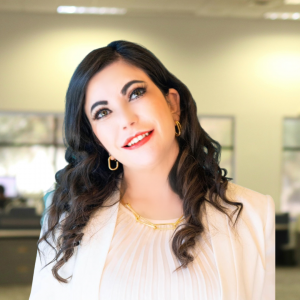 Naomi Sylvian is a content marketing leader with more than 17 years of experience, and the editor of Let's Talk Supply Chain's Women in supply chain™ series. Her works have appeared on Forbes, Mashable, Business Insider, The Muse, and Yahoo, and have been mentioned by The New York Times Online. Naomi mentors at-risk teens to fight recidivism and contribute on a local level, working with the Arizona Department of Juvenile Corrections. Subscribe to her LinkedIn newsletter, The Chain Explained, for all things Supply Chain broken down with as many pop-culture references as possible, or view her marketing portfolio online.