Over the last three years, we've all seen the human side of supply chain as frontline workers and supply chain leaders have found solutions to keep communities thriving through a decade defined by constant disruption. Between climate-driven events, COVID closures, and continually growing talent gaps, the human side of supply chain is an important element that needs to come into focus—both the impacts of supply chain disruption on consumers, their communities, and families. Whether it's the quick and powerful response to make new vaccines and medications available to more urban and rural communities, or working to end the baby formula shortage—supply chain professionals are working behind the scenes to protect our way of life amidst unprecedented volatility.

Even as pandemic requirements and parameters fade into recent memory, supply chain managers still face an ongoing labor shortage. The talent gap is one of the significant challenges that propel ongoing delays, limitations, shortages, and stock-outs. Meanwhile, we still aren't having enough meaningful dialogues around closing the gender gap in supply chain, and how it can help companies gain speed and grow. Because we can't look at the human side of supply chain without examining how the gender gap is holding back the industry. There's recent research showing Women in Supply Chain™ bring more curiosity and agility to their organizations to empower breakthroughs in performance.

At Let's Talk Supply Chain, the human side of Supply Chain drives us. We're committed to helping to close the supply chain gender gap by elevating the voices of women making leaps and bounds in their careers to support innovative new approaches. Every month our Women in Supply Chain™ blog series brings you the female trailblazers who are making bold moves and reshaping the industry as we know it. Let's Talk Supply Chain gives women leaders a platform to share what motivates them and how they are sparking real progress in their organizations.

Let's Talk Supply Chain™ explores challenges women supply chain leaders navigate every day that all too often go unnoticed. We celebrate their milestone achievements and the starting points that positioned them for their latest wins, ushering change at organizations across the global supply chain. In our Women in Supply Chain™ blog series, you hear from female thought leaders across the global industry about their roots, their stories, the obstacles they've faced and overcome, and the career advice they have for others working their way up the chain.

This month we're proud to highlight Audria Allies, a Business Process Manager for imports. Meredith has a passion for advocating for Women in Supply Chain™.  She majored in Logistics Management from Stellenbosch University while earning a Certificate Programme in Business Analysis from Faculty Training Institute 
What is your name?*
Audria Allies
What is your title?*
Business Process Manager – Imports
Please write a few sentences about what being featured in the Women in Supply Chain™ series means to you.*
With the supply chain industry being largely male-dominated, it is encouraging and refreshing to see women have a platform to grow their voices. Moreover, it's an honor to be at the forefront of this movement. Through the Women in Supply Chain™ Series, I hope to share my experience and encourage others.
Tell us about your journey, from where you started to where you are now.*
My journey in supply chain started quite early, but like most people, it happened by chance. When I started my studies in 2008, my initial major was marketing management, hoping to tackle the advertising industry one day. I took logistics management as a selective subject, and by the end of my second year, I switched to a double major (marketing and logistics management). During my postgraduate studies, I specialized in maritime studies before beginning my career in fashion retail supply chain. As part of a graduate program at one of the major fashion and lifestyle retail brands in South Africa, I started as a supply chain trainee in 2013. My career took a detour in 2014, where I worked as a business process analyst focused on supply chain and internal business process improvement. In 2018, I moved to the shipping department to work as a supply chain and business process analyst, often switching between the two. As of 2021, I am a business process manager leading a team of 10 people with import operations and import costings.
What has your experience been as a woman, working in a historically male-dominated industry?*
Being a woman in corporate alone has proven to have its challenges, so having to deal with these challenges within the supply chain industry is not surprising and no different. While I respect my male counterparts, I found myself having to justify my thoughts, opinions, and contribution to my peers. I'm often viewed as too young to be in the supply chain industry, although having amassed nearly 10 years of experience. In recent years, it's been wonderful to see women take up senior roles within the industry, I'm fortunate to have witnessed and been surrounded by some of these women, and that we finally have a seat at the proverbial table.
Have you had a mentor in your career, how did they help?*
Having people who are able to guide you professionally and sometimes in a personal capacity is critical. I've been fortunate to have both male and female mentors who have contributed to my success and continue to do so. I grew to trust these people, who knew me, my goals, aspirations, strengths, and weaknesses. As a result, they can represent me and advocate for me even when I'm not present.
Is there anyone in the industry, or outside of it, who you really admire? Why them?*
There are a couple of people who have recently inspired me not necessarily within the supply chain industry. A few persons to note is one of my lecturers who is one of the first Women in Supply Chain™ I've met – Dr. Leila Goedhals-Gerber (Professor at Stellenbosch University). Her work and contribution to Southern African logistics and transport have been awe-inspiring. Most recently, Sarah Barnes-Humphrey has inspired me to get out there and be more active in the supply chain community, her work educating and connecting supply chain enthusiasts and professionals have given me the motivation and have re-ignited a passion that I lost. Last, but not least, I can't not mention my current manager, Miriam Patel (Head of Shipping at The Foschini Group Pty Ltd). Thanks to her extensive knowledge and experience within the imports and exports space, as well as her investment in my personal development, I will always be grateful to her.
How did you find your voice – was there one moment when everything came together for you?*
There hasn't been one particular moment, but I'm reminded on a daily basis how I'm valued for my knowledge and expertise within supply chain. I've recently decided to expand my network and build my brand. One of my aspirations is to advocate for Women in Supply Chain™, therefore being approached for this series is one of the most exciting highlights of my year. I've also recently joined boom! which is a global network, a community that connects, inspire, and celebrates Women in Supply Chain™.
On your journey so far, what have you learned about yourself, and what does the future hold for you?*
I've always been one to go with the flow, and I always felt that my career was in the hands of others. As I've grown in my knowledge, enthusiasm, and values, I've discovered that I own my career and that it is up to me to ensure that I advocate for myself. I've also learned that not everyone will like you and that's ok – you can't make everyone happy. Furthermore, hard work will only get you so far, networking is key in achieving collective goals and career aspirations. As for my future, I'm working towards growing my brand and network, and transition from an operational role into a more strategic role.
If you were to meet Sarah one year from now, what are the three things you hoped you worked toward to make the most of your journey?
Building my network and having gained traction within the supply chain community.
 Upskilled myself, as the supply chain evolves so does technology – having upskilled myself in this area will only add to my toolbox.
Transition into a more strategic role where I can continue to improve, implement and encourage change within our industry.
What advice do you have for girls and women looking to follow in your footsteps?*
The supply chain industry is not for the faint-hearted. Be tenacious and resilient. Having said that, it is probably one of the most rewarding and challenging industries. The supply chain industry is ever-changing and no two days are the same. If you are up for the challenge, go for it. Don't let others discourage you from achieving your goals and dreams and don't be scared to fail. Every failure is a lesson learned well.

You can follow Audria on LinkedIn for more insights.
This Women in Supply Chain™ feature was sponsored by Sifted. As a business dedicated to empowering confidence within the shipping industry, we're proud to support Women in Supply Chain™. Sifted is the leading logistics intelligence software that combines insights with expertise to empower bigger, smarter shipping decisions. As growth and disruptions present ongoing challenges for supply chain leaders, thousands rely on Sifted to set their businesses up for success. Learn more about Sifted here.
About the Author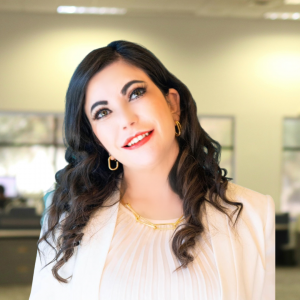 Naomi Sylvian (She/Her/Hers) is a Senior Manager, Supply Chain Solutions Marketing at Anaplan where she supports brand awareness and expansion—leading marketers to simplify supply chain planning, make it profitable, and ignite agility by integrating other key business planning areas. Naomi has 16 years of marketing experience and is passionate about telling stories that matter. For over a decade, she has been committed to highlighting the voices of female thought leaders in male-dominated industries. Naomi's LinkedIn Newsletter, The Chain Explained helps break down supply chain concepts and disruptions to give industry outsiders a greater understanding of how they impact their everyday lives.